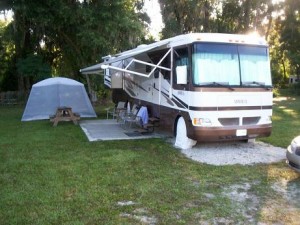 Welcome to
Best RV Resource!
RVing and Camping means different things to different people. No two campers are alike. There are RV'ers who live in their camper full-time, while others enjoy just a season or take to their camper only for the weekends.
RV'rs are a mysterious and wonderful bunch! Some friendly, some not. Some like to party, others are content to enjoy a quiet night around a beautiful campfire. Others, once having set up camp, can't wait to leave and see the sites. And still others are content to dig-in, relax and partake in campground activities.
There are however, a few things that we all have in common: The love of being outdoors, traveling, meeting people and enjoying the RV life style……whatever that means…
Russ and I have been RV'ing for 3 year. We got the "bug" back in 2008 and haven't looked back. While we still have a house, and jobs that we work, we decided back then that we weren't going to wait to live our life on the road. (Read our full Story….)
This website was born from a desire to share our experiences and knowledge. Recommendations from RV'ers FOR RV'ers.
We've learned so much from being on the road and living our RV life style. We have also learned a lot from the wonderful people we have met along the way.
We would love to hear what you have to say and encourage you to share. Whether it's a story, a tip, a recipe, a favorite campground, a favorie place. Sharing what you have learned or experienced can only enlighten somebody elses journey.
* * *
Be sure to check out our
Campground Directory
. We have put together listings in each state with direct links to campground websites.
Our
Campground Review
area has lots of campgrounds reviews! Read through our selection to find a campground you might enjoy. Or, write a campground review of your own.
The
RV Tech Directory
, which is our other website, is a listing of small independent RV repair shops.
Have some time, be sure to check out our
Latest Articles
!