Best RV Resource » Our Favorite Places and Things » The Next Exit
This is a fabulous reference guide. We use this book just as much as we use our map books. Always open on the dash, ready at a moments notice.
I think we just fell onto this book. Russ found it left behind in a camper that he had sold. The prior owners long gone…. He brought it home, and I thought to myself – "great, another item to take up space" – but my opinion changed the first time I used it!
The major highways and interstates in each state are included, with a listing of (almost) everything that is located off each of the exits.
You might be thinking to yourself: "Well there are signs on the highways that tell me that". But those signs don't tell you about the places what are not able to advertise on those signs, or stores that aren't included in the general categories of food, fuel, and lodging. This great book includes additional stores/facilities like Wal-Mart, Hospitals, Auto Garages, Car Dealerships, Home Depot, USPO, Drug Stores, and much much more.
There is also a "The Next Exit" website. (Click Here To Go There) You can order your hard copy of the book here or sign up for their "on-line" version. There is also an iPhone App that can be downloaded.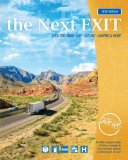 This would be a great gift for anybody who travels, not just RV'ers. Anybody taking a car road trip would appreciate having this reference tool
*Clicking on either of the pictures will take you to Amazon.com where you can also purchase this book.






Filed under: Our Favorite Places and Things · Tags: driving your rv, road trip, the next exit