Best RV Resource » RVing with Pets » Traveling with Pets – Pictures
Traveling with your dog or cat can be really fun. They can be such characters!
Today after Shannon and I returned from our walk, I tied her outside while I went inside the motorhome to put away my sweatshirt and her leash. When I returned, only seconds later, I was greeeted with this: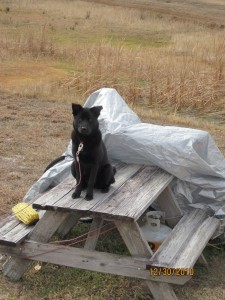 A picture's worth a thousand words…….
Filed under: RVing with Pets · Tags: dog pictures, pet pictures, traveling with pets