Best RV Resource » Traveling with Pets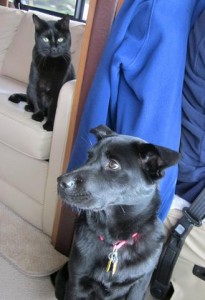 Traveling with pets can be a
wonderful part of your RVing lifestyle!
For the first 2 years of our traveling we had our cat, Simon, along for the ride. He loves to travel!
He curls up on the dash when we are driving and when we are settled for a stay, he moves from window to window checking out the new scenery. He loves to watch the birds and often makes noises at the squarrels when they taunt him from the trees.
Shannon (the dog) is our new addition. We got her in August when she was 5 months old. She has taken to camping like a duck takes to water. She loves it!


But as much fun as it is to have the dog with us, it's also a lot of work!
Since Simon (the cat) is an inside cat, we never had to worry about where to walk him, or wonder if he would be able to join us if we went on an adventure for the day. It was always a non-issue.
With Shannon we are constantly considering how much exercise she has gotten. Where she is going to "do her business" or if she can join us on an outting.
So far we have been pretty sucessful, finding hiking trails or public dog parks within a reasonable distance of our campground. And, if you are creative and friendly, most restaurants with outside seating will allow you to take your dog – if they are well behaved. (And the law allows it)
Below are some of the internet resources we have used to find dog parks and other places that allow dogs.
We will also be writing articles about the dog places we have visited, in addition to other dog tips….and we invite you do to the same.
Dog Park USA
Doggeek.com Your Cyber Canine Connection
Dog Friendly.com
** Below are our dog articles: